29 Sep 2022
Content Creation Market Analysis Growth Factors and Competitive Strategies by Forecast 2030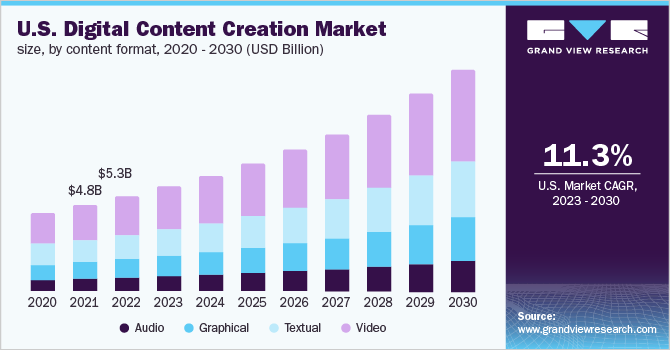 Global Content Creation Market: The process of producing ideas and obtaining information from any media in certain contexts is known as content creation. Audio or video files, animations, text, photographs and graphics are all content creation examples.
It also allows the company to communicate with its traffic audience, which helps to build brand scalability, thereby propelling the demand for content creation.
The primary forces driving the global content creation market growth are an increase in IT expenditure, the introduction of cloud computing, and the acceptance of AI.
Global Content Creation Market: The global content creation market is valued at USD 13.80 billion in 2022 and is projected to reach a value of USD 34.16 billion in 2030 expanding at a CAGR of 12%.
Drivers of the global content creation market include decreased data storage costs and the expansion of e-commerce business platforms.
The decreasing content creation pricing, growing smartphone and tablet user bases, rising internet penetration, and greater usage of digital marketing tools are likely to impact the market positively.
To attract potential clients, players are focusing on developing and implementing digital strategies, enabling the expansion of content creation market share.
Content creation tools and services are critical in content generation to satisfy the needs of organizations.
Key Trends of Global Content Creation Market:
Widespread use of social media platforms:
Authoring, publishing digital material, and distributing are made easier with content production software, which is driving the demand for content creation from around the globe. The widespread usage of social media platforms such as Instagram, Twitter, Facebook, and LinkedIn, among others, is opening up a wide variety of content creation market opportunities.
Lack of open-source Software;
The lack of open-source software, on the other hand, is a major impediment to the expansion of this market size. Furthermore, this market trends are predicted to advance due to rising digitization, increased use of social media marketing, and increased availability of high-speed internet connectivity.
The growing importance of client involvement and appropriate advertising through the internet is likely to fuel the content development business. As a result, the global market for content development is augmenting.
Competitive Landscape:
Adobe Systems Incorporated
Aptara Inc.
Acrolinx GmbH
Apple, Inc.
Corel Corporation
Integra Software Services Pvt. Ltd.
MarketMuse, Inc.
Microsoft Corporation
Quark Software, Inc.
Trivantis
Segmental Analysis of Global Content Creation Market:
Based on Content Format
Textual
Graphical
Video
Audio
Others
Based on Tool type
Cloud-based or Web-based Content Creation Tools
On-premise Content Creation Tool
The cloud-based segment is likely to hold 72.4% of this market share.
Based on Enterprise Size
Small and Medium Enterprises
Large Enterprises
The large enterprises segment is expected to dominate the market.
Based on End-user
IT and Telecom
Travel and Hospitality
Retail
Education
Healthcare
Media and Entertainment
Others
The IT & telecom segment is anticipated to be at the forefront of this market
Based on Region
North America (US, Canada), Europe (UK, France, Spain, Italy, Germany), Asia-pacific (India, China, Japan, South Korea, Australia), Latin America (Mexico, Brazil), Middle East and Africa (UAE, Saudi Arabia, South Africa)
North America accounts for the largest revenue share in the market during the forecast period. It is mainly attributed to increased usage of content creation tools and services across emerging countries.
Major Developments:
Magisto's Emotion Sense Technology (EST) is an AI-based processing system that allows users to turn their photo and video collections into high-quality films with Hollywood-style suspense.
Acrolinx GmbH, a provider of AI software for enterprise digital content development, has announced the majority acquisition of Genui GmbH, which likely helps the worldwide this market expand even further.
Major questions answered in the report:
What are the major challenges, growth factors and trends in this market?
Which top companies are contributing in the growth of this Market?
Which regional segment accounts for the largest revenue share in this market?
Key takeaways from the report:
Deep-insights on regional analysis along with other segmental analysis.
Challenges, trends and growth factors in the market.
This market is valued at USD 13.80 billion in 2022 and is projected to reach a value of USD 34.16 billion in 2030 expanding at a CAGR of 12%
Source:
Digital Journal