28 Jan 2023
DIGITAL 2023 DEEP-DIVE: ONLINE AUDIO CAPTURES MORE OF OUR ATTENTION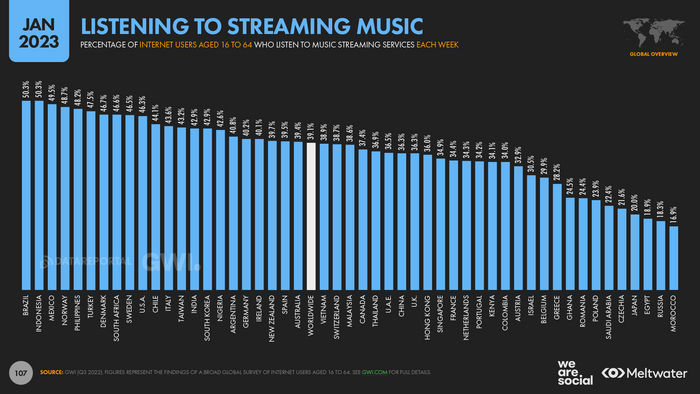 Our huge new collection of Digital 2023 reports contains a wealth of insights into how people are consuming content across connected devices and services.
But perhaps one of the most interesting trends in this data relates to the increasing popularity of digital audio.
Overall, the data shows that the world is spending more time listening to streaming music and podcasts, although the story is more complicated when we look at "social audio".
Let's dive into the data.
Time spent listening to music streaming services
GWI's data reveals that we're spending more time listening to music streaming services than ever before.
At a worldwide level, almost 4 in 10 working-age internet users say that they stream music each week, although that figure is down slightly compared with this time last year.
However, users also report that the amount of time that they spend listening to streaming music services has increased steadily over recent months.
GWI's latest figures indicate that the typical internet user now spends 1 hour and 38 minutes per day listening to music streaming services like Spotify, which is just 13 minutes less than the time they spend watching "conventional" TV (i.e. broadcast and cable channels).
The global daily average has increased by five minutes per day (+5.4 percent) over the past twelve months, and the typical user now spends the equivalent of 36 waking days each year listening to streaming music.
Spotify continues to dominate the streaming music market, with intelligence from data.ai suggesting that the Swedish company's mobile app is the most used music-related app in the world.
However, hundreds of millions of people use other services too, and with many of these services continuing to see healthy growth in active use, it'll be interesting to see whether Spotify can hold on to its position at the top of the charts.
It's also important to note that music videos continue to be hugely popular on platforms like YouTube and TikTok, so the broader world of "digital music" is much larger than these music streaming figures suggest.
Indeed, data from GWI shows that music videos remain the most popular kind of online video content amongst the world's working-age internet users, with half of all survey respondents saying that they watch music videos at least once per week.
And if we look at the most watched videos of all time on YouTube, there's plenty of evidence to suggest that music is still one of the platform's top attractions.
And just in case that list made you feel totally out of touch with "popular" music, here's Spotify's top 20 most played songs of 2022, just to drive that feeling home.
Podcasts are an ongoing growth story
Meanwhile, in their analysis of essential media trends for 2023, GWI reports that podcasts have now moved into the top three preferred types of audio content worldwide, ahead of both CDs and vinyl.
At a worldwide level, more than one in five working-age internet users (21.2 percent) now say that they listen to podcasts each week, spending an average of 1 hour and 2 minutes per day listening to the increasingly popular audio content.
It's also interesting to look at where podcasts are most popular.
GWI's data reveals that Brazilians are the most prolific consumers of podcast content, with almost 43 percent of working-age internet users in the country saying that they've listened to at least one podcast during the past 7 days.
Similarly, more than 4 in 10 survey respondents in Indonesia say they listen to podcasts each week, and the figure remains above 3 in 10 across Mexico, Sweden, and South Africa.
Producers in South Korea, Russia, and Japan may want to put any podcast plans on hold though – at least for the moment.
GWI's data reveals that fewer than 1 in 10 internet users in these markets listen to podcast content on a weekly basis, and that figure is just 1 in 24 in Japan.
Audio books
GWI's data also reveals that almost 1 in 5 of the world's internet users also listen to audio books each week.
That figure has declined by roughly 2.5 percent over the past twelve months, although it's worth noting that this may be the result of broader declines in overall digital activity, rather than a sign that the popularity of audio books (specifically) is in decline.
And despite that slight dip in adoption, the latest figures still suggest that well over half a billion adults listen to ebooks every week.
Social audio
However, despite early enthusiasm for "social audio" at the start of 2021, the excitement around services like Clubhouse and Twitter Spaces has waned over the past twelve months.
At its peak, Clubhouse attracted more than 10 million users per week, but Kepios analysis suggests that this figure may be closer to 1 million users today.
Meanwhile, although Twitter hasn't published any stats for use of its Spaces feature, Variety reported that users were already in decline by this time last year.
That's not to say that social audio is "dead" of course, but it does suggest that people may be more interested in "passive" consumption of audio content.
Source: Data Reportal