17 Dec 2022
Emirati astronauts complete ESA Columbus training module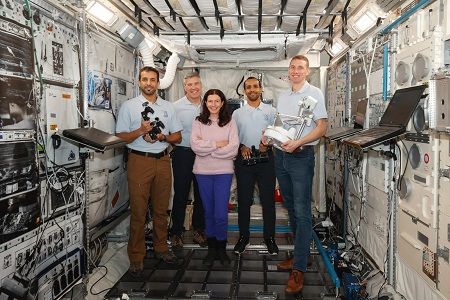 Crew 6 will be launched to the International Space Station in mid-February next year aboard the SpaceX Crew Dragon spacecraft with Sultan AlNeyadi and two other astronauts.
The Mohammed Bin Rashid Space Centre (MBRSC) astronauts Sultan AlNeyadi and Hazzaa AlMansoori, have officially completed the European Space Agency Columbus training module for the SpaceX Crew 6 mission under the UAE Astronaut Programme.
The intense training dealt with technical disciplines of significant categories including Expedition 69's payloads, The expedition's experiments, Handling hardware, Routine maintenance and Responding to contingencies. Both the astronauts went through theoretical and real-time practical sessions on the above categories.
The entire training module took place at the European Astronaut Centre (EAC), which is located in Cologne. For astronauts and ground operations personnel, EAC is the training centre for all European-built ISS hardware, including ESA's Columbus laboratory and European payloads.
Aboard SpaceX Crew Dragon spacecraft Sultan AlNeyadi along with two other astronauts, Crew 6 will launch to ISS from Launch Complex 39A at NASA's Kennedy Space Center in Florida, in mid-February next year. The crew will spend about six months on the space station, beginning with a brief handover from Crew-5, who arrived in October for a science expedition at the microgravity laboratory.
During the mission, Sultan will conduct numerous in-depth and advanced scientific experiments as part of the second mission of the UAE Astronaut Programme, that will pave the way for future UAE missions and further push the capabilities for a journey beyond Earth.
The UAE Astronaut Programme launched by the MBRSC aims to establish the infrastructure of the UAE's space sector and is one of the most inspiring programmes that seek to meet the aspirations of young people with unique scientific capacities and skills.
The programme is one of the projects funded by the ICT Fund of the Telecommunications and Digital Government Regulatory Authority (TDRA) which aims to support research and development in the ICT sector in the UAE.
Source: BROADCAST PRO