24 Feb 2023
SCTE Announces 2023 Spring Lecture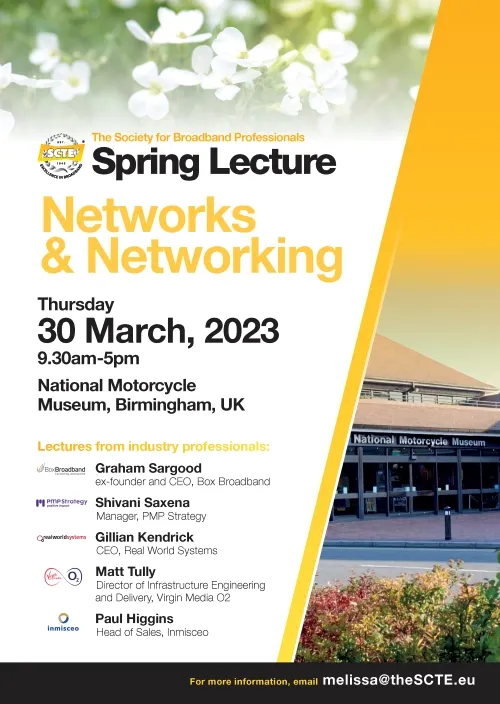 The SCTE® (Society for Broadband Professionals) today announced that its annual Spring Lecture will be taking place on Thursday March 30 at the National Motorcycle Museum for the cable, fibre, and telecoms industries. Featuring an impressive lineup of speakers offering insight in the areas of altnet expansion, investment, consolidation, training and network software and implementation, featuring experts from Virgin Media 02, Real World Networks and PMP Strategy.
The SCTE Spring Lecture, entitled 'Networks and Networking', will feature presentations by well-renowned experts in the broadband community, on a variety of important topics, including:
The Fibre Revolution and the Challenges of Building Out as an Altnet in the UK, by Graham Sargood, founder and ex-CEO of Box Broadband
Consolidation strategy from a game theory perspective in the UK FTTP market by Shivani Saxena, PMP Strategy
Are you sending the right signals to retain and upskill your workforce? by Paul Higgins, Head of Sales and Operations, Inmisceo
Upgrading Virgin Media O2 to FTTP by Matt Tully, Matt Tully – Director of Fixed Infrastructure, Engineering and Delivery, Virgin Media 02
Planning for Change in FTTx Network Rollouts by Dr Gillian Kendrick, CEO of Real World Systems
Anthony Basham, recently appointed CEO of DKT A/S and President of the SCTE® said, "This is the first time we have explored network planning, government and industry regulators, consolidation and training, and we are delighted to hear from Virgin Media 02 about their FTTP upgrade. It's going to be a great day."
"The SCTE® Lecture Series is one of the initiatives we are most proud of," said Costas Kyriacou, Chair of the Lecture Committee. "We have a long history of delivering thought-provoking, intelligent presentations to our members. They know these events bring out the best of what we offer the industry – expertise, learning, networking, all for the community of professionals we cater for."
The Spring Lecture forms part of a series of events provided by the SCTE and will be followed by the Summer Lecture and Autumn Lecture, in July and October, respectively. Designed to raise and maintain standards across the cable, fibre and telecoms sectors, the SCTE has been providing accreditation, training courses, publications, networking opportunities, and a close-knit community of engineers and technicians since 1945. At the Spring Lecture, there will be two sessions in the morning and three in the afternoon, with plenty of opportunities to network during coffee breaks in the morning and afternoon, plus a 90-minute networking lunch in the bar area.
The Spring Lecture is free of charge to attend for SCTE members, and costs £50+ VAT for non-members. If you're interested in attending the SCTE Spring Lecture please contact melissa@theSCTE.eu and register your interest via this link, as spots are limited. Find out more about the event session lineup here: https://www.thescte.eu/260-uncategorised/448-book-to-attend-an-scte-event
Source: SCTE