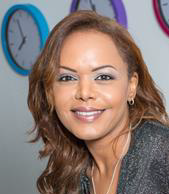 Mai Elkhalifa
Founder
,
All is Media
United Arab Emirates
Mai El Khalifa is a distinguished leader in the TV and content industry, renowned for her extensive knowledge and experience. As the CEO and founder of All Is Media, she is committed to delivering captivating scripted and unscripted television series, shows, events, and specials, while also offering exceptional content distribution and consultancy services.
Before establishing All Is Media in 2021, Elkhalifa held a senior editorial role as Head of Production and Planning at Dubai Media Incorporated, setting priorities for the acquisition and commissioning of international titles while producing a multitude of successful shows and specials for the network. She started her career in the TV industry as a Fashion Researcher for Middle East Broadcasting Corp (MBC) in London in 1995.
Within just two years, Elkhalifa was handpicked to lead a team from London in developing a world-class news network for Abu Dhabi TV. With six years of remarkable achievements, including a promotion to news production manager, she shifted her focus to Dubai and took on the role of head of production for the Dubai Business Channel in 2002.
El Khalifa then pivoted her career to become the Director of Business Development at Afras Holdings, a company with interests in trade, telecom, mining, construction, and retail. In five years, she drove the company's growth and expanded her international experience and business acumen across the GCC, Africa, and Europe.
With her extensive knowledge of the ever-evolving content landscape and viewer expectations, Mai brings a strategic vision for content development in the Pan Arab market. She is passionate about her profession and known for her energy and desire to share her experience with others. Mai is also an accomplished artist, creating powerful pieces that celebrate the diversity of women in the region.